Mike Hicks, Principal
Mike Hicks has maintained a national reputation for creative excellence and verbal skill for decades. Today, he works as a creative director, designer and writer with a small group of associates, primarily in the area of brand identity development, communications design and marketing strategy. Throughout his career, Hicks has been a contributing writer and editorial advisor to a number of magazines. He has authored two books, been a faculty member at the University of Texas and other universities and lectured extensively across the U.S. to professional and academic audiences.
He grew up in West Texas and attended Texas Tech University. Following a 10-year career in music, he moved to Houston and founded a design firm which quickly won national recognition for its work in corporate marketing and editorial design. A joint agreement with Texas Monthly and GSD&M Advertising brought him to Austin. Here, he helped gain Texas Monthly national presence in New York as a viable regional media and contributed to the magazine's design, editorial and circulation efforts. At GSD&M, he served as Co-Creative Director, helping the then fledgling agency structure its creative department and refine its broadcast capabilities.
Simultaneously, he established Hixo, Inc., a high-end design firm. Within a few years, Hixo achieved a national reputation for excellence. The firm weathered two economic downturns and continued to flourish, with offices in Austin, Tx. and Santa Monica, Ca. In 2004, he retired his staff and re-established Hixo as a small, boutique creative firm.
Gretchen Hicks, Principal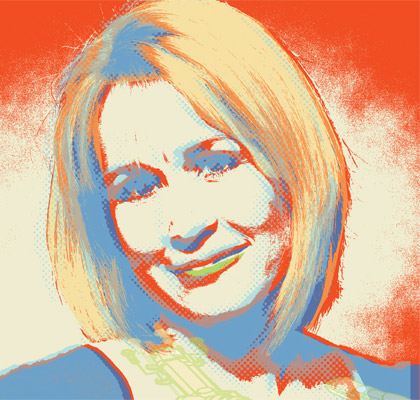 Gretchen Hicks was born in Austin, raised in Dallas and educated at the University of Texas. She began her career in New York City as an Art Director at Lord, Dentsu & Partners. She was ultimately hired away by Donny Deutsch, serving as his agency's Art Director for a variety of accounts ranging from Ikea and Prudential Securities to Gallo Wines and Entertainment Weekly Magazine.
In 1993, she returned to Texas determined to escape the grind of Madison Avenue and to create a more fulfilling and meaningful life for herself. In Austin, she worked for several local firms then spent five years as a freelance design director for McCann/Erickson, New York and GSD&M, Austin, traveling back and forth between Austin and NYC. Finally, in 2006, she was recruited by Sherry Matthews Advocacy Marketing, accepting a position that combined her considerable skills and experience with her life-long interest in public service. Today, she functions as the agency's Design Director, working in a variety of roles and serves as a Creative Director at Hixo. Her work consistently receives regional and national acclaim. She has a long list of Gold Addy Awards, and her work has appeared in the New York Art Directors shows, CA magazine, Graphis and other shows and publications.